Performing a lip augmentation using the Juvederm collection of fillers is like framing a picture. With a picture being framed or matted, one must take into consideration the existing size of the picture and the area it is to be hung in. The proportions of the room to the picture determine where you start. With doing a lip augmentation you follow the same principle. A person's surrounding facial volume determines what can be "carried" and still look proportionally appropriate.
Keeping dimensions of the surrounding "frame" is of utmost importance. With the lips, this is the commissure (corners of the mouth) and peri-lip tissue volume. Lip augmentations with Juvederm or Restylane should start on the outside of the lips. Augmentation of the marionette lines and corners of the mouth should be done first, particularly on a more mature patient where volume loss has occurred.
Dr. Dibling once saw a patient who wanted her lips augmented, and he felt there was already quite a bit of volume there. During the consultation he explained the need to augment the surrounding tissues first to "frame" the picture. As he started to augment the corners of her mouth, he handed her a hand mirror to see the progress. She immediately said, "My lips look better already, even though you haven't put any filler in them. How is that?" Starting on the outside replaced a very subtle volume loss that was present and allowed her lips to 'unfurl,' so to speak. Of course, Juvederm was placed in her lips, but now they could easily "carry" the increased volume. Her lips looked fuller and still had natural plains and, most importantly, proportion.
Another satisfied Juvederm patient said she now loves to talk to herself in her car rearview mirror before she backs out of her driveway in the morning. She said," I look at myself in the rearview mirror and say 'those great lips need a little lip gloss!'" It was a wonderful result because it's all about how you feel about yourself. If you feel great, your whole day goes better.
Dr. Dibling has performed hundreds of filler procedures and is also certified in "Voluma". This is Allergan's new hyaluronic filler, approved for cheek and mid-face volume loss.
Our website has multiple before and after photos of lip augmentations Dr. Dibling has personally performed with Juvederm. Both the frontal view and profile look better than before. Check them out in our smile gallery and see for yourself.
Consultations with us are always free, so feel free to schedule an appointment or swing by the office to chat! You can also look at our patient videos and hear what Dr. Dibling's patients have to say for themselves.
Botox and Juvederm around the mouth
Lip Augmentation – Front View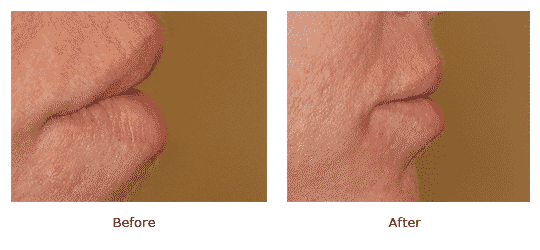 Lip Augmentation – Profile
Schedule A Consultation Today